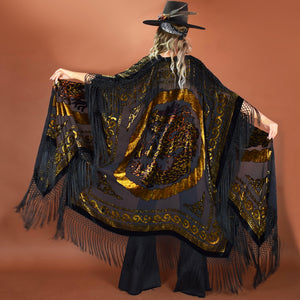 Soooooooo GOOD & so freaking relevant.  To anyone feeling discouraged at any moment, please remember there are no mistakes and one day you will look back on these times and get that AHA moment.  i love you.
Gorgeous luxe silk rayon velvet burnout caftan in a magical black with golden dragon artwork.  All finished off with fishnet fringe all along shoulder, sides and hemline.   Front is open and cut caftan style to fit all.  
Great with anything and everything year round! So many ways to wear and style, dressed up or down, simply effortless and timeless!

Silk Rayon Velvet Burnout
Silk Fishnet Fringe

One size fits all
Total length including fringe is 51"

Dry Clean or Hand Wash Gently & Hang Dry.  A fun fact for those who are shorter aka myself, I actually discovered, that if you hand wash and throw in dryer it will shrink a bit ;)

The velvet burnout process, or "Dévoré" as it is also referred, is achieved by applying an acid to a natural, protein fiber (silk) and natural non-protein fiber (rayon). The acid "burns out" the non-protein fiber leaving only the sheer woven silk and hence, creating elaborate and intricate designs. This fabrics is of the highest quality, and is very expensive to manufacture.
The art deco designs on the shawls used to make these beauties are based on 1920s prints and give an amazing stained glass glow when backlit. The silk part of the fabric becomes very sheer, almost transparent. Often referred to as "wearable art", I promise that once you lay your hands on one of these, you will not ever want to take it off.