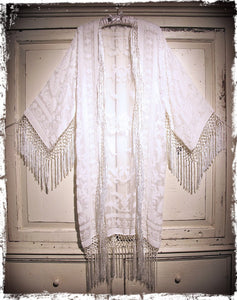 Bohemian babe goodness! Gorgeous luxe burnout velvet with silk fishnet fringe dripping down neckline, all around bottom and under sleeves creating heavenly movement!   
Fabric has a gorgeous light sheer stained glass window effect. Stunning Baroque pattern. An effortless, year round piece that can be dressed up or down and treasured for many years to come!
Available in our short or long kimono style
One Size
Bust goes up to 44"
shoulder 20"
Length for long kimono is 50" including fringe
Length for short kimono is 25"
Silk Rayon Velvet Burnout
Silk Fringe
Dry Clean