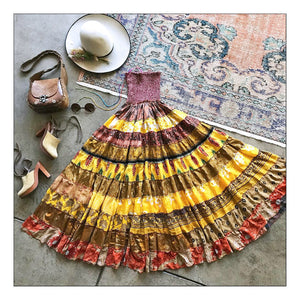 Ready for those sun soaked days in thee most magical Indian silk tiered maxi dress.  Beyond amazing sweep will have you swooshing to the Gods.  Smocked tube top with tons of stretch to keep everything in place and also comes with satin rainbow ties if you want to wear as a halter.   Just fold over the top and wear as a skirt!   Stunning earthy spice toned prints on different types of silk.   And because we absolutely love giving our girls thee most special pieces no one else has each dress has it's own one-of-a-kind prints. 
100%  Silk
One Size
Bust is 17" (
unstretched)
- up to approximately 42" (stretched)
Overall length starting at top of tube top is approximately 46"